Supply Chain
A downloadable game for Windows
Supply Chain
- Created by Arego
- Prototype Fin August 8th 2019
[How to Play]
Controls
Left click the grey boxes to activate them.
Left click on items in to either add them to the inventory or move them about.
Right click on items in your inventory to Quarry them.
Goal
Your objective is to accumulate the most gold before time runs out.
To gain gold you must quarry (or sell) bigger and bigger items.
At the end of 20 turns, your current gold will be score.
Turns
There are 20 turns in a game
At the beginning of each turn all houses generate a random item.
At the end of each turn (when the "end turn" button is pressed) all items in your inventory are removed.
Quarrying
Each turn you may quarry up to 3 items in your inventory.
When a item Is quarried you immediately gain the amount of gold listed below it.
Items may not be moved or fused when quarried.
Fusing
You may fuse two of the same items together.
This forms a more expensive item.
To do this left click on a item you want to fuse then left click on its counterpart.
[Building Types]
Constructing Buildings
First buy a building from the buttons on the left.
Then designate a location to build by left clicking.
Finally, after a turn has passed your building will be constructed.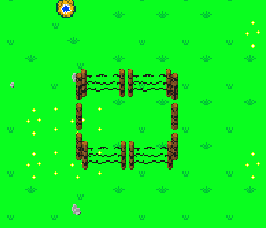 House
Houses cost 3 gold.
Each turn a house generates a random item.
When left clicked the random item is added to your inventory.

Storage
Storages cost 5 gold
The storage building adds one extra slot to your inventory

Tower
The tower cost 7 gold.
You may place items into it for 1 gold.
Items stored in a tower are not removed at the end of a turn.